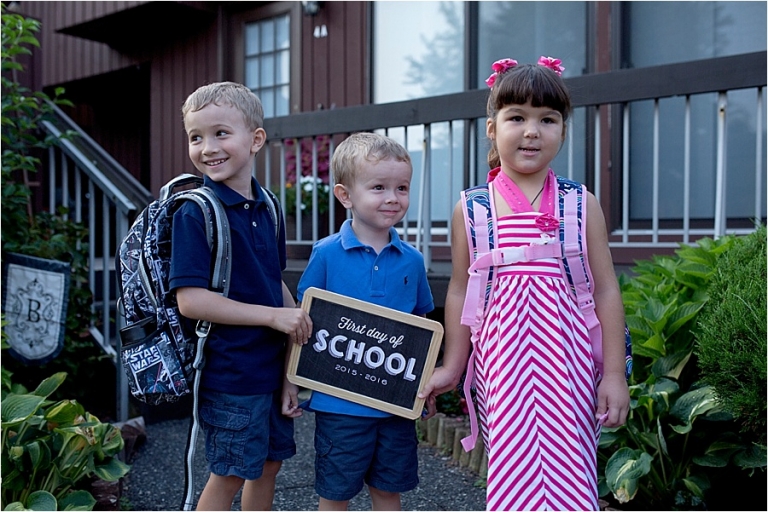 I get a lot of questions on how to document your back to school day. Every year around this time my Facebook and Instagram is flooded with kids' back to school photos. The images range from simple snapshots in front of the door to elaborate Pinterest creations with custom chalkboards and sidewalk chalk. Documenting back to school is important, whether you have a kindergartner heading to their first day at school or a middle schooler. The techniques I describe below will help you focus on the important aspects of taking meaningful back to school photos.
SIMPLE IS KEY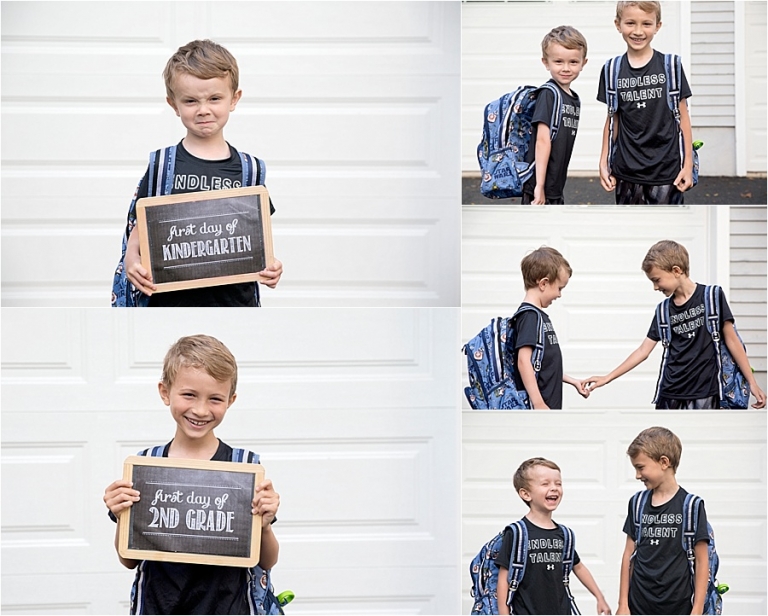 When it comes to these photos, I try to stick to simple set up. And this is not because my kids are impatient or don't want to pose for yet another photo. Or maybe, because I did not plan well the night before.  And now am frantically trying to find that sign and print it in time for walking out the door to snap that Facebook worthy image.
Still, I like to get a few images of my kids by the garage right before heading to the bus stop. Yes, with the signs in hand, as I love to see how fast they grow and change. However, I try to focus on natural expressions, and ask them questions about what they are excited about on the first day. And of course, show off their new backpacks or outfits they have picked out!
CAPTURING DETAILS

I do not put my camera down here, well, sometimes I do. But I bring my phone. And continue snapping away memories I want to document and keep forever. As they grow the images will change. First, they will be walking with you holding your hand, or maybe run ahead to join their big brother or sister. Sometimes, nerves will kick in and they will look back for a brief second, to see their mom or dad cheering them on, making sure it is ok to get on that big yellow bus. As much as I want to document everything, I try to be careful not to miss moments and try to not only be focused on getting the images. Live through it and feel the moment, even if you are holding back those tears. Trust me momma, I have been there!
DOCUMEN
TING EMOTIONS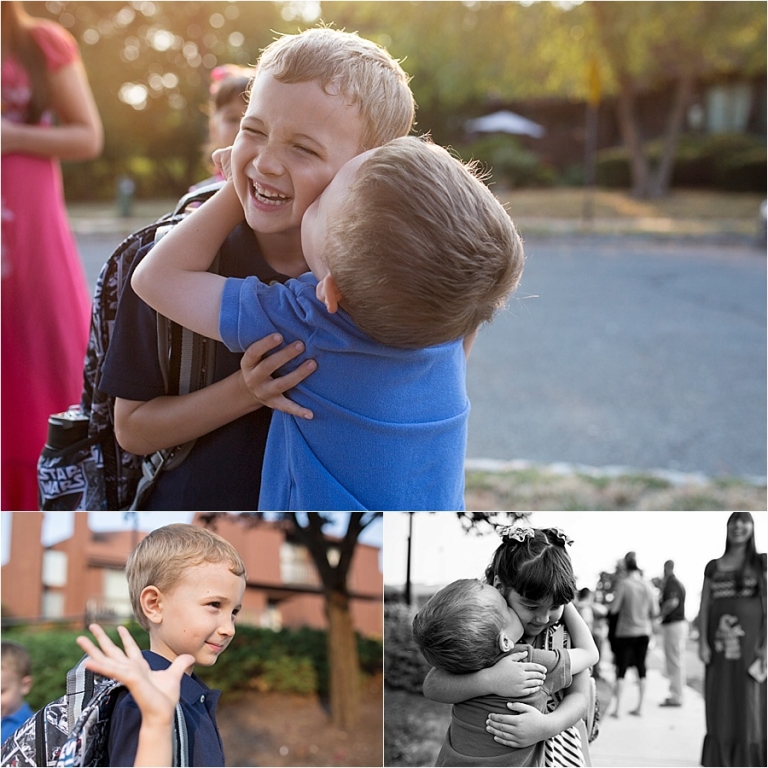 I love the interactions of the kids once they get to the bus stop, it can be high fives from friends, hugs from the little brother, who is excited for the oldest to get on a bus, etc. No moment is small enough to not be captured.
GETTING INTO THE PICTURE 
*Images below are captured by Jessica Liggett Photography.

As the photographer in our family, I rarely end up in front of the camera, and honestly, I do not feel confident when my photos are taken. The reason I try to be in photos are for my kids, so when they look back on the images from these years they see there mom or dad was there. Snap a picture of dad holding the little one on his first day of Kindergarten, giving hugs or high fives if your child is older. And ask your significant other to take a photo of you squeezing your munchkin with joy!
DOCUMENTING THE MORNING BEFORE SCHOOL
*Images below are captured by Jessica Liggett Photography.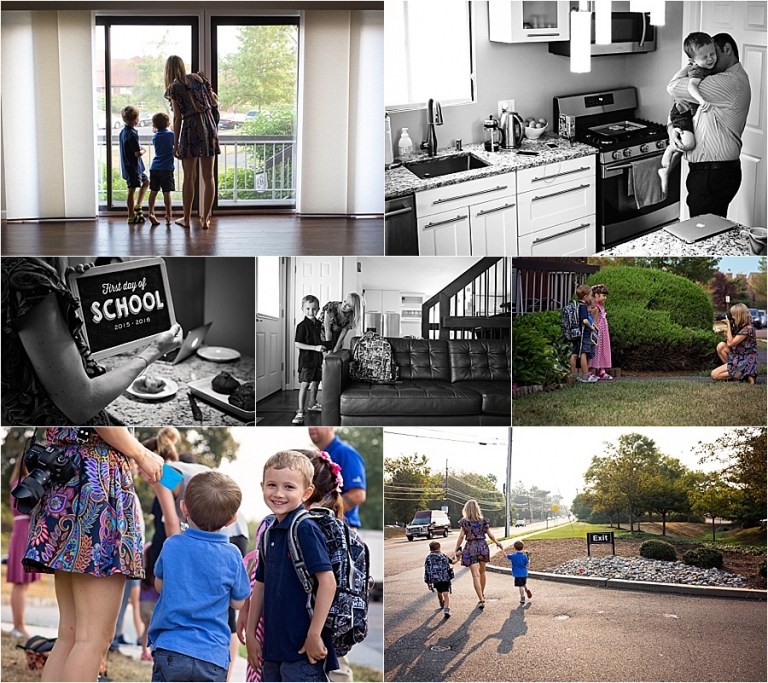 Yes, you can take back to school photos yourself and worry about getting everything accomplished. Most moms are superhero anyways, but why stress? When my oldest was going to Kindergarten I did just that I splurged and hired a documentary photographer who was able to document the whole day for us. Jessica from Jessica Liggett Photography was my photographer of choice. I was able to relax and focus on feeling the first day and maybe snapping just a few images myself. I cannot stress how wonderful it felt to see the images years later, I was able to relive all the important moments, see our home and myself in all the images from that time. These images would be cherished not only by me, but also by my kids in the future.
If you would like to inquire about documenting your first day of school feel free to contact me for more information.